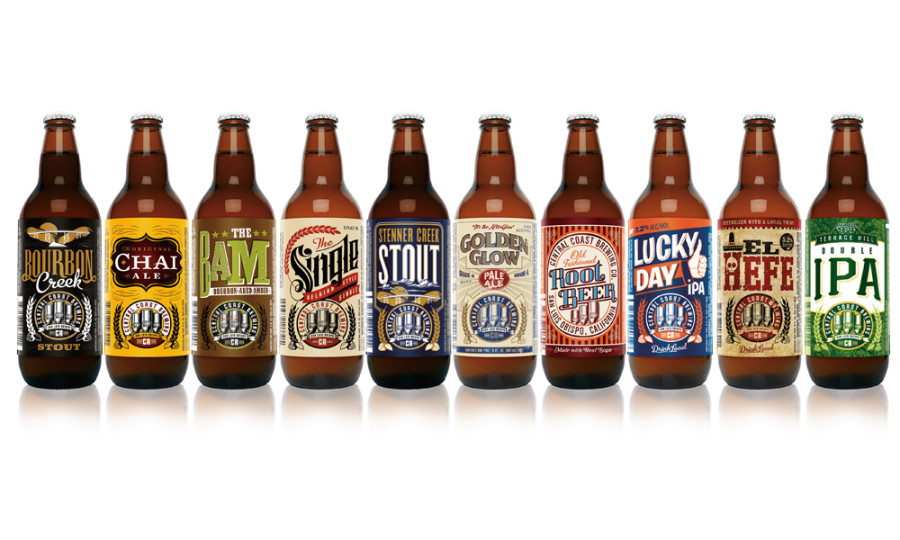 Scott Greci, Guru Design for Central Coast Brewing Company
A new book from authors Daniel Bellon and Steven Speeg
is highlighting the glorious packaging, typography and illustration that has come to accompany some of Small Beer's best offerings. From the minimalist dots of To Øl to the "Clockwork Orange"-esque imagery of Three Floyds Brewing, the effortlessly titled
Cool Beer Labels
offers a glimpse into the best art and design from breweries around the world.
The book spans a laundry list of breweries, from the familiar American names — Brooklyn's Sixpoint, Portland's Hopworks, and Denver's Great Divide — to perhaps less recognizable international brewers like A. Le Coq in Estonia and Quaffing Gravy in England. Sure, the publication features a few large companies too, the Czech Kozel brand among them, but for the most part, Bellon and Speeg place their focus on craft. Their aim: to demonstrate "how commercialized packaging design can be elevated to a whole new level."
As designers, Bellon and Speef are graduates of University of Cincinnati's College of Design and the Paier College of Art and Design, respectively. As beer drinkers, they are home brew enthusiasts who seem to have found the perfect intersection of alcohol and art. Greg Koch, co-founder and CEO of Stone Brewing Co., provides the foreword for the tome, introducing a dive into the design process of both master brewers and master designers. We have a preview of the work below. For more on Cool Beer Labels, check out the website here.
Krönleins Brewery — Halmstad, Sweden.

Three Floyds Brewing — Munster, Indiana, USA

Mateo & Bernabé — Logroño, Spain

To Øl — Tallinn, Estonia

Carton Brewing — Atlantic Highlands, New Jersey, USA

Bold City Brewery — Jacksonville, Florida, USA

Crux Fermentation Project — Bend, Oregon, USA

Russell Brewing Company — Surrey, British Columbia, Canada

Bogotá Beer Company — Bogotá, Colombia

New England Brewing Company — Woodbridge, Connecticut, USA

Bitter Old Fecker Rustic Ales — Chelsea, Michigan, USA

Hallertau — Auckland, New Zealand

Left Hand Brewing Co. — Longmont, Colorado, USA