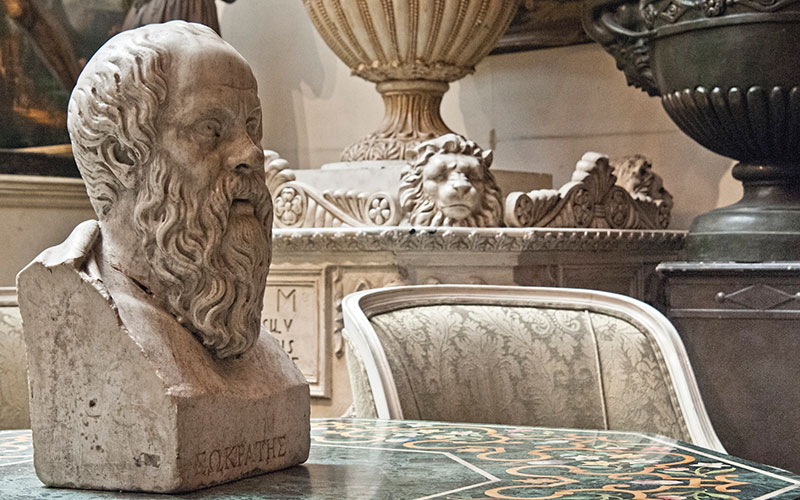 Mark Farley, CEO of the renowned prop rental firm Farley, on the art of collecting and his love of antiquities — plus his picks from our 1 October Antiquities sale in London
In the depths of a London industrial estate lies the world of the Farley Group, a vast catacomb of antiques, costume, porcelain and antiquities, all for hire as props for period films, TV shows and even high-end parties with a twist. Amassed over the past 50 years by artist Joe Farley and his son Mark Farley, this array of historic pieces have all shared the spotlight with Hollywood and Pinewood Studio A-listers. They're the unsung heroes, the backdrop of all our Merchant Ivory favourites. From the tea cups in Downton Abbey to the infamous chandelier in Only Fools and Horses, the warehouse is bursting at the seams with treasure.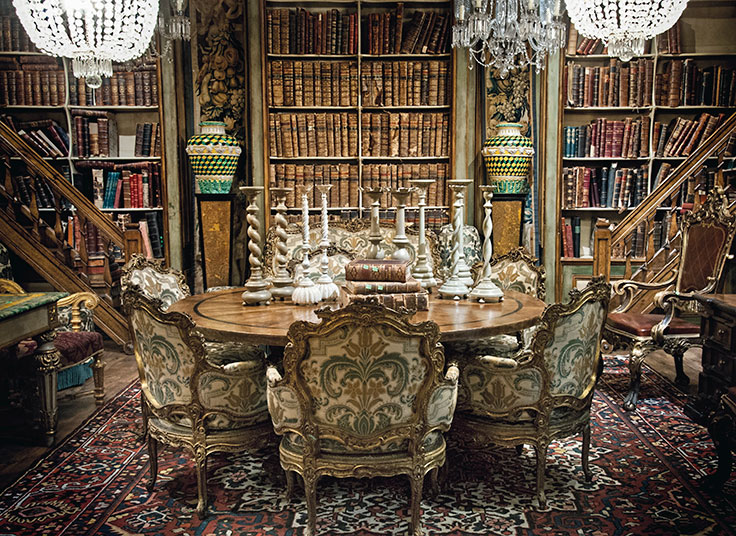 Above and main image: Props galore at Farley
In film-making circles, you're the number one choice for period drama. How did it all start?
It all began in my father's framing shop on Lamb's Conduit Street one afternoon. A gentleman came in and asked if he could hire the picture in the window — he needed to borrow it for the making of a film. My father then asked him if there was anything else he might require. That night I came home from school to find much of the contents of our house had been leased for a tidy sum. I left school aged 15 to work with my father. We expanded the business together, buying up various competitors and their collections, until we ended up here — with some 60,000 square feet of holdings.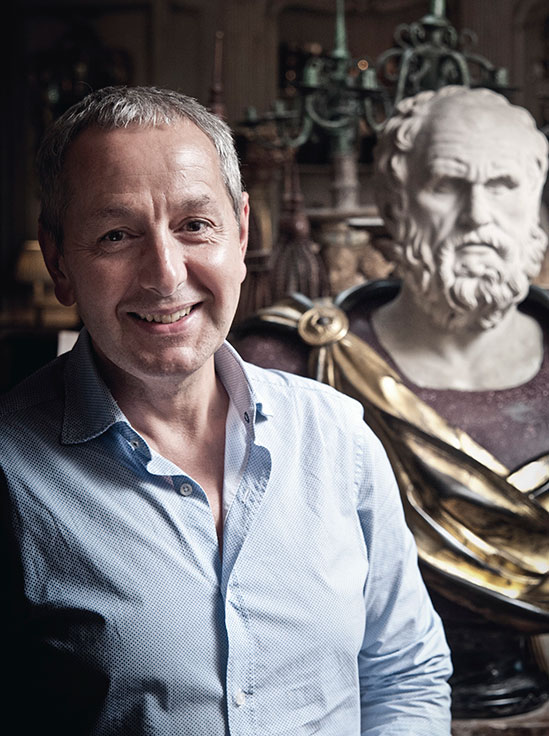 Mark Farley with a bust of Marcus Aurelius that featured in Gladiator
You've amassed a huge amount over the years. Do you have a favourite purchase or type of category?
Whatever the level of the acquisition, it gives me huge pleasure. The famous chalice fromIndiana Jones and the Last Crusade came from a flea market in Paris. I had just as much fun finding it as more expensive pieces and it now has a rather illustrious history.
If I'm buying for me, I buy antiquities, or sculpture inspired by antique prototypes. There was a bust of Marcus Aurelius I bought from a well-known dealer in London some years ago. I even dreamt about it after seeing it for the first time and had to have it. Two days after it appeared in the hire warehouse, it was chosen by Ridley Scott for Gladiator. It's an eerie presence in the famous scene where Commodus (Joaquin Phoenix) kills his father Marcus Aurelius (Richard Harris). The bust in question looms in the background throughout the scene. It's important that props support the actors rather than detract from them and this is a superb example of that.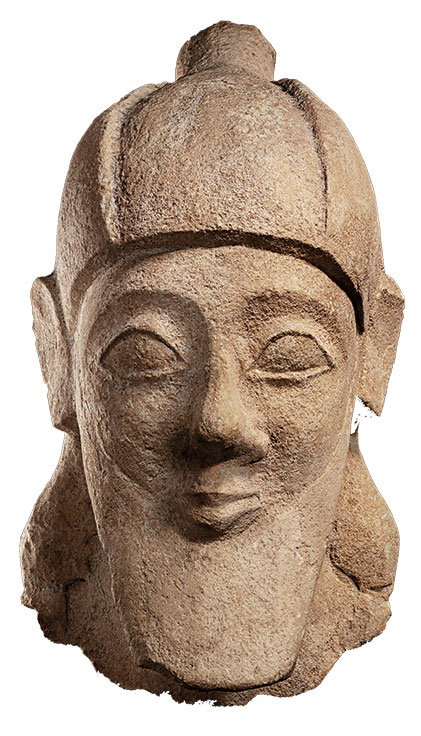 A Cypriot limestone male head, circa early 6th century B.C., 10 1/2 in. (26.7 cm.) high. Estimate: £120,000-180,000. This work will be offered in our Antiquities sale at King Street on 1 October
You have bought everything from porcelain to pocket-watches to create the 'Props Galore' aspect of the Farley group. What draws you to antiquities as a collecting category for your personal collection?
I've been fortunate enough to travel far and wide in the search of new acquisitions. I even have a network of clients in India who supply things. I want my clients to come here and find things you can't get on the Pimlico Road for example. I spend a lot of time travelling for work but every time I'm in Rome I make time to visit the Capitoline Museums. So much of what we know now came from Ancient Rome — it inspires me.
An Attic red-figured hydria, attributed to the Chrysis Painter, circa 420-410 B.C., 17 1/4 in. (44 cm.) high. Estimate: £20,000-30,000. This work will be offered in our Antiquities sale at King Street on 1 October
Which pieces from our upcoming Antiquities sale at King Street have caught your eye?
As your collection grows you want different things. I already own many heads and torsos but I was drawn to lot 65, the Cypriot head. It is quite a rare type of head, the form is relatively simple and I would never tire of looking at it. I love the colour of the Roman bronze hand — it's a piece of sculpture in its own right. The Attic hydria is quite similar to a piece in my collection and I'd love to study them side by side, while the Egyptian necklace (lot 178) is a timeless piece. I would buy it for my wife.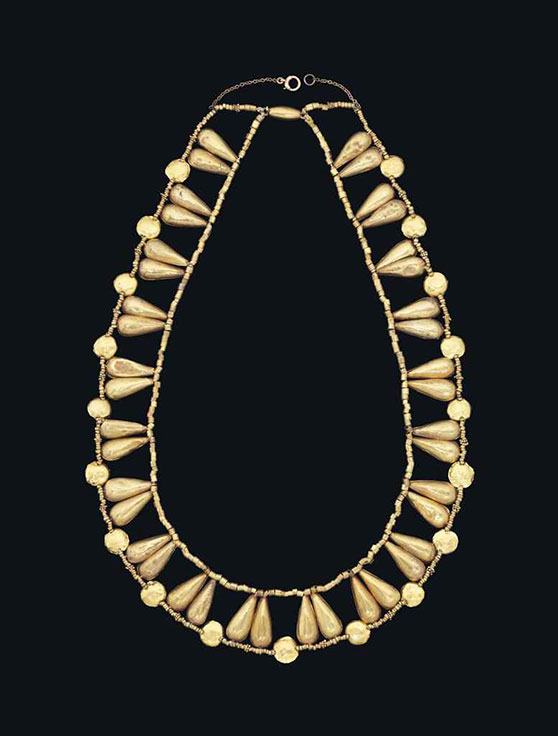 An Egyptian gold necklace, New Kingdom, 18th dynasty, circa 1550-1069 B.C., 17 in. (43.2 cm.) long. Estimate: £35,000-45,000. This work will be offered in our Antiquities sale at King Street on 1 October
If you had one piece of advice about how to collect, what would it be?
Buy what speaks to you. That might be a Hispano-Moresque plate from Seville or a multi-million pound Picasso. Whatever it is, buy what you want — there are no rules.
Source: http://www.christies.com/features/Lights-Camera-Antiquities-6479-1.aspx